Meet The Newlyweds: Megan & Brian's Story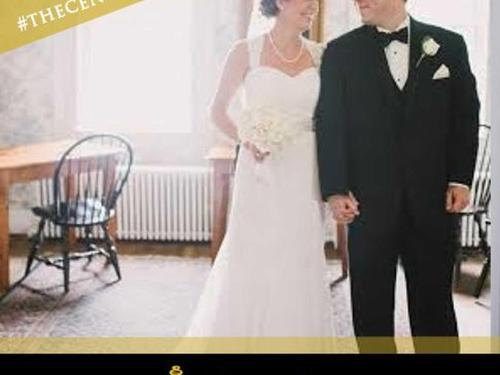 Whenever someone gets married there's usually a host of questions that ensue after because everyone likes a good love story. At The Century House it's no different, not only do we enjoy being a part of your big day but we also love to hear and share your story. One wedding that we are still giddy over is Megan and Brian's— here's their exclusive post wedding interview.
Congratulations on your August 31st Ceremony! Some people choose their wedding date for a specific reason— did you have one?
Megan: We got engaged in the summer of 2013 and we both wanted to get married about a year later. The date, August 31st, was one of the only available dates at The Century House, so that helped make our decision! We were surprised at how quickly venues book up! My advice to newly engaged couples is to book your venue ASAP!
Brian: Also, I come from a family full of teachers so we wanted to have a date that was convenient for them as well.
Now, for the most frequently asked question: how did he propose?
Brian: Shortly before Megan's Grandma, Lois passed away; I was able to ask her permission to propose. We were both so happy that Lois knew we were going to get married before she left us. We made if official on 4th of July, when we headed up to Burlington, VT for a long weekend of relaxation. After exploring the town, we headed back to the B&B so that Megan could take a nap. When she woke up, I was waiting nearby with the ring.
Megan: Obviously, I said yes!
I am sorry, but I had to say "Aww…" out loud with that one! So you had an amazing weekend, have your grandmother's blessing and now it's venue time— what made you scope out The Century House in the first place?
Megan: Initially, when we first got engaged, we were living in Brooklyn, but we knew we wanted to get married upstate. Brian has a big family, many of which, currently live in the Capital District. The Century House's location was close for his family, but also for many of our friends who took the train in from NYC. We also knew we wanted a location that would make planning a wedding from out of town easy. Leslie and The Century House staff were great in recommending other vendors and helping us figure out our options. Then, to make everything easier, we moved upstate to Saratoga Springs in March!
Brain: We had visited a few other venues, but we had a good feeling immediately when touring The Century House— we put down a deposit the same day.
What "made" your wedding day?
Megan: I really appreciated how flexible the staff was (especially, Leslie!). Throughout the planning process, we went back and forth on some things— do we want a cookie station? Do we want a signature cocktail? What time will the ceremony be? Typical wedding questions! Leslie was so accommodating, even up until the very last moment when we realized we had an extra guest came that we hadn't expected!
Brian: For me, it was the attention to detail. For example, the staff remembered to use our special toasting flutes, cake knife, cake toppers, etc. Then, they went the extra step and after the reception, they cleaned them and delivered them to our honeymoon suite. They also took all of our cards and extra decorations to the room! At the end of the night we were so exhausted that it was nice not to have to think about those little things!
Can you both describe your wedding day in three words?
Megan & Brian: Inclusive, warm and happy.
Do you have any advice for those who are newly engaged or currently planning a wedding?
Megan: Yes, I would emphasize that having a professional venue like The Century House makes it so much easier for the bride and groom. In the days leading up to the event, you're going to be stressed and busy. You don't want to have to worry about chair rentals, caterers, tent set-up, clean-up, etc. The Century House will take care of all those details. I think sometimes brides and grooms overlook this factor.
Brian: Also, it's never too early to start thinking about the seating chart! Most likely, you'll have to wait until you get all of the RSVP's in, but it's a good idea to begin visualizing how the tables will play out.
We are so happy that you had such an enjoyable experience with us; we loved being a part of your special day. Do you have anything else to add?
Megan & Brian: Like we mentioned before, we were both so stressed in the days leading up to our wedding, but everyone kept telling us, "Don't worry! In the end, the day will be wonderful and perfect." To be honest, we were definitely skeptical of this, but they were 100% right! There isn't a single thing we would change about the day. The Century House did an amazing job; we are also convinced that they got the rain to stop just as our ceremony was about to begin!