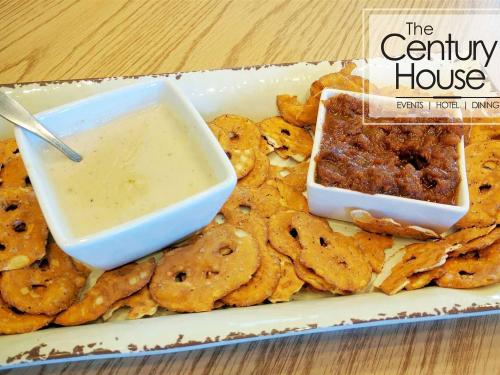 If the official start of fall has visions of colorful foliage, cozying up fireside with family and friends, apple picking, and all things spiced with pumpkin dancing through your head, then we've got the perfect dish to compliment the season!
Chef Eric Bolton from The Century House created these recipes inspired by seasonal, local ingredients that are sure to please any palate. We hope you enjoy them!
Truffle Cauliflower Soup
2 heads cauliflower rough chop
2 shallots diced
1 clove garlic minced
1 teaspoon fresh thyme
1 pint water
1 quart heavy cream
Truffle oil, salt and pepper
2 teaspoons Olive oil

Put olive oil, shallots, garlic and cauliflower in pot, sauté until soften shallots and get color on cauliflower. Add water, thyme and cream simmer for about 1 hour or until the cauliflower is soft. Add truffle oil to taste, puree with a stick blender until smooth, season with salt and pepper and enjoy!
Apple Chili Chutney
6 apples cut in 8th's (cored of course)
1 large red onion julienned
3 cups apple cider vinegar
1 and ½ cups brown sugar
4 cups dried cherries
1 bay leaf
3 teaspoons oil
3 teaspoons cumin
1 teaspoon allspice
2 teaspoons each cardamom, cinnamon, smoked paprika

Combine vinegar and sugar in large sauce pot, stir on medium heat until simmering. Add cherries and simmer for 10 more minutes

In a sauté pan add oil and sauté apples and onion until the onions are translucent. Add the apples and onions to the cherries, add in all spices including bay leaf. Cook until apples fall apart (15 – 20 minutes on low heat). Remove bay leaf and blend contents of pan until puree serve with pretzels, bread sticks, cornbread or any other favorite dipper.
Visit The Century House Restaurant in Latham, NY for fireside dining featuring a menu that introduces a modern take on traditional fare. Relax in our Federal tavern with a locally-brewed craft beer and indulge in a Century burger or surf and turf - the choice is yours!
For reservations, please call 518-785-0834.