We love sharing the stories of our Century House couples on our Bridal Blog and this fall wedding was particularly special. Carol and Peter were wed at the Century House this October and we're excited to talk to the bride about how she planned her perfect wedding!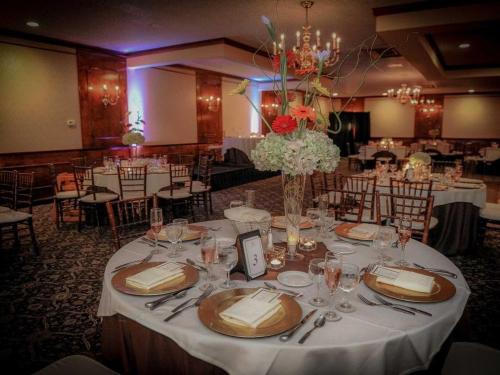 What was the overall style or theme of your wedding?
We were married in October which is such a beautiful time of year, But, I didn't want to go overboard with the fall décor. We used a lot of gold, ivory and brown. My dress was ivory and lace so my themed played somewhat off my dress. I also incorporated fall colored flowers into hydrangea bases (my favorite flower) for our centerpieces. We did high vases on every other table and short vases on the others, so it didn't overtake the entire room. It was perfect. Very traditional.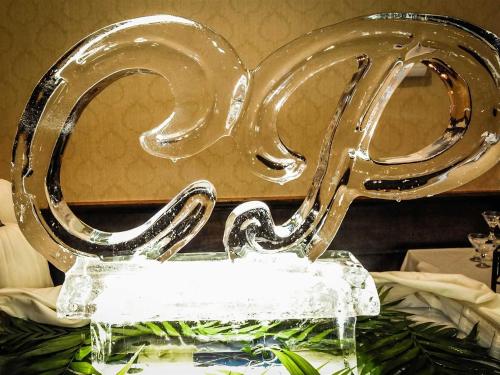 What was most important to you when planning your wedding (food, music, flowers, etc)?
The most important thing to us was that we wanted everyone to have the best time! Food and music were definitely a high priority; however the food, music and flowers all play a part in the enjoyment of our guests. We also did the virtual photo booth in place of favors which was a huge hit. I was so happy we decided to do it.
What other wedding vendors did you use?
Flowers: Dehn's Florist in Saratoga
Photography: Shannon DeCelle Photography
Alterations: Sue Smalls
Virtual Photo Booth
Today's Limousine
DJ: Kevin Richards
Make-Up: Veronica Nunes
Violinist: Craig Thaler
Ceremony Programs: Modern Press
What's your advice for brides to be?
Everyone would always tell me when I was planning that it all goes by so fast you won't even have time to eat! I thought "that won't happen to me"…but I was wrong and they were all right. As stressful as the planning may be enjoy every minute of it, it's such a feeling of accomplishment when you see it all come together on your special day and to feel that all that hard work and indecisiveness paid off. Also don't stress the small stuff so much, usually if something little does go wrong you'll be the only one that notices anyway. I would love to go back and do it all over again.
How did Century House assist you during the planning process?
There are not enough wonderful things both my husband and I can say about the Century House and the people that assisted us in our planning. From the moment we looked at Century House as a possible venue, we knew it was the one. Toward the end of the planning, they went through every single detail with us on more than one occasion; I really felt they listened to us and what we wanted and made it happen, even the small things. On our actual day they were right on top of it all- Kim Baker even went to my room to get my sandals in my overnight bag for me because my feet hurt! As busy I was, I didn't have to worry about our guests being taken care of. Our family and friends raved about the service as well. Also anytime I e-mailed or called they were very timely in responding, which is so important when you are planning a wedding.
Did you feel all your wedding expectations were met?
Absolutely…read the above….
How did your wedding day go? Was it what you envisioned?
Aside from it being a rainy day, it was exactly what I hoped it would be. From the flowers to the photographs our vendors were all great. When I saw the Ballroom before all the guests had come in, I got very emotional, seeing the cake, the centerpieces and table settings, it was exactly how I thought it would be.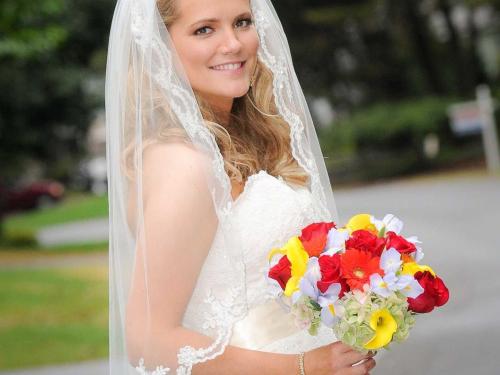 What was your favorite part of your wedding?
There were so many wonderful memories, but my favorite would have to be walking down the aisle and seeing my now husband. We chose to wait until the ceremony to see each other and it was well worth the wait. I will never ever forget it! It was such a beautiful moment, especially sharing it in front of all the people that mean so much to us.
Any brides out there need help planning their perfect wedding? All Century House couples have a staff of in-house wedding professionals to help with all their wedding day needs, whether it be linen choices or who to use as a florist. If you have any questions about how the Century House can make your dream wedding day a reality, contact Leslie Meyer at Leslie@thecenturyhouse.com or 518-785-0834. We look forward to hearing from you!