Best.Day.Ever
We were lucky enough to catch up with Brendan McClune and Jess Camuti, who were married at The Century House on March 5, 2016. Our wedding team had such a fantastic time celebrating with these two and their family and friends! No one summed up the day better than Jess, when she was asked to describe her wedding in three words, "BEST.DAY. EVER."
Anyone could tell how perfect of a wedding day Jess and Brendan would have by how perfect of a proposal Brendan put together. We'll let Jess tell their proposal story.
" It was a beautiful day in September 2015 and we decided to take lunch to Thatcher's Park and enjoy the sunshine. After eating and wandering around for about an hour and a half, we were admiring the view from a dry stream-bed on top of the cliff when Bren suddenly stepped backwards away from the fence. After a few seconds, he tapped on my leg (I was clueless he had backed away) and I turned around – there he was, down on one knee with a ring. I said "OF COURSE!" and we were engaged!"
Let the Planning Begin!
The Century House: How did you decide on The Century House as a venue for your big day?
Jess: We had attended a few weddings in the past at The Century House and were very impressed, plus we love going to the restaurant for dinner. We wanted a place that didn't feel like just a hotel ballroom, and Century House has an "old world charm" to it. It's decorative all on its own and we knew it was the look we were going for. We also really wanted a place where we could do it all right there. We got ready in a space set aside for us, had the ceremony in one ballroom, the reception in another ballroom, guests were able to stay at the hotel, and breakfast was provided the next morning.
The Century House was also the first, last and only place we met with. Right from the start, everything just fit with what we wanted – the food, the price, the flow of events, the different things we could customize, the look of the place, etc. We signed the contract at our first meeting and have absolutely no regrets!
The Century House: We love to hear how happy our couples are with the total package we can offer them. If you had to pick though, what "made" your wedding at The Century House?
Jess: It's hard to just pick one thing, but if I had to, I'd have to say how easy everything was. Right from the beginning Leslie was responsive to my (many) emails, open to our ideas and made helpful suggestions. I was able to relax and have a blast with my bridesmaids while we were getting ready as I really felt I didn't need to worry about anything… even when my groom's tuxedo button fell off, I was able to say "Ask the front desk for Leslie, she'll fix it", and she did! Many, many of the guests commented how impressed they were with the service and the staff of The Century House, as everything ran so incredibly smooth. The staff went out of their way to make sure we all had a wonderful experience, from ensuring my mother-in-law didn't have to make her way to the bar for a drink, to delivering extra mac and cheese to my niece and nephews who decided they didn't want the chicken tenders. I can't talk enough about how stress-free Century House made our wedding day for us!
The Century House: Thank you! We can't tell you how great that is for us to hear! Now that you've gone through the engagement and wedding planning process, what is one piece of advice you'd give to all those newly engaged?
Jess: Decide what is most important about your wedding reception before you start planning the wedding itself. We very much wanted everyone to just relax, have fun and enjoy themselves, including us! Keeping that in mind, we scheduled our pictures before the ceremony which let us go straight to cocktail hour after we were married and spend that much more time with our guests. I know it's not traditional for the groom to see the bride before the ceremony, but we set up a "first look", got some amazing pictures, and having that extra time with our family and friends during cocktail hour was wonderful. Had it been more important to us for Bren not to see me before the ceremony, we would have planned differently. That's also why we decided on live music and having the wedding all in one place; both of those things were high up on our importance list!
The Century House: It sounds like you had everything very well planned out! Anything else you'd like to add?
Jess: Our wedding day was the best day of our lives. A lot of people have asked "Are you sad it's over??" and my answer is yes and no – while yes, it would be fun to have another huge party and see everyone, there is not a single thing I would want to go back and do differently. It's hard to be sad when I can honestly say it was perfect!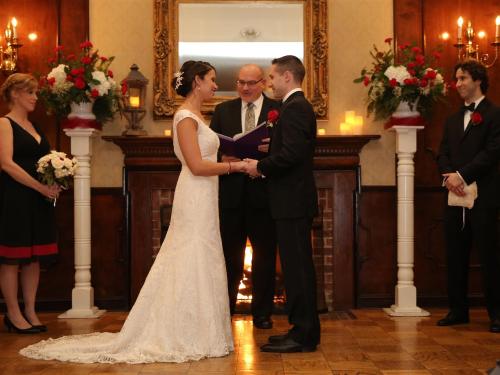 Vendors
Flowers: Petal Pusher
Photographer: YTK Photography
Band: Soul Session
Makeup and Hair: Glamtastic